Help the Rescues by donating . Click the donate button and either make a one time donation or chose a recurring donation. 
Our mission is to rescue, rehabilitate and rehome abused, abandoned and neglected dogs – unwanted dogs. We believe that with time we can erase the memories of their old life and be the bridge between what was and what can be. The rescue's in our care today and the ones who come after are the reason we do what we do. No dog deserves to go through life without being loved and without a home. Dogs deserve love just because they exist and they give us a reason to open our hearts. We all Need a Rescue would not be able to continue doing what we do for these wonderful dogs without the support of wonderful people such as yourselves. It is greatly appreciated.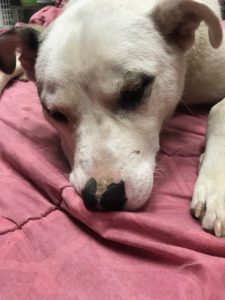 Neil, was purposely ran over and left for dead with severely damaged spine. He has undergone medical care and is now in physio to help with his balance. He is just one of the dogs that donations help with.